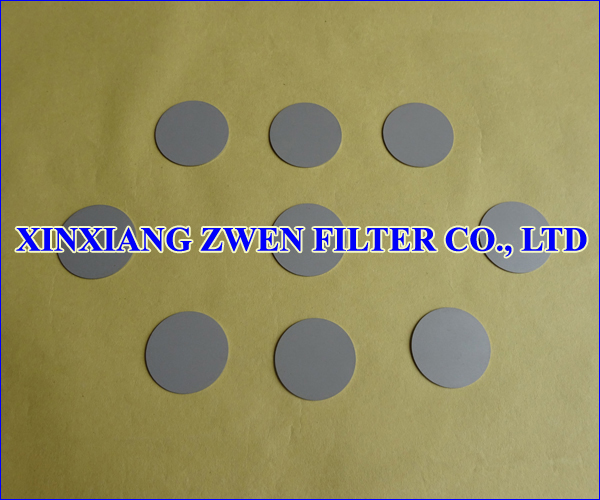 Ti Filter Disc
Ti Filter Disc Feature
1. Ti filter disc is made from ti powder particle
2. Ti filter disc is sintered in a high temperature vacuum furnace.
3. Ti filter disc is a good filter media for surface filtration and depth filtration
4. Ti filter disc has narrow pore size distribution
5. Ti filter disc is a good filter media in food industry and medicine industry (GMP) because ti is an in-noxious metal and an inert metal
6. Ti powder particle will not shed in the filtration process
7. High dirt holding capacity
8. Good porosity
9. High filter rating accuracy
10. The effect of filtration is good
11. High filter efficiency
12. Good permeability
13. Pressure loss is low in filtration process
14. High flow rate at low differential pressure
15. High compression strength
16. Good mechanical strength
17. Good abrasion resistance
18. Good durability against most liquids, gases and aggressive steam
19. High temperature resistance
20. High corrosion resistance
21. Backwash
22. Washable and Cleanable
23. Reusable
24. Long service life
Ti Filter Disc Technical Data
Raw Material: Ti
Filter Rating: 0.22-100 Microns
Operation Temperature: ≤ 300 ℃
Diameter: ≤ 400 mm
Thickness: 1 mm,1.5 mm,2 mm,3 mm,5 mm
Application
1. Filtration
Solvent filters for chromatography systems.
Polymer filters for processing molten plastic materials.
Catalyst recovery filters in petrochemical plants and food and beverage applications.
Gas filters for chemical processing and semiconductor manufacturing applications.
Sensor covers to protect delicate instruments in harsh environments (such as smoke stacks and exhaust pipes).
2. Flow Control Devices, Breathers, and Pressure Equalizers
Small fitting-mounted flow restrictors that replace expensive micro valves and orifice devices used in gas leak detectors in the mining industry or in other analytical equipment.
Vent plugs that allow internal pressure of systems to come to equilibrium with outer atmospheres such as in space vehicles, automotive (truck and train) brake systems, and instrument cabinets used in harsh environments.
Vacuum delay valves in automotive carburetors.
Pump priming vents for pharmaceutical micropumps.
3. Flame Arrestors
Gas detectors for mining operations.
Oxygen sensor covers in turbine and jet engine inlet cones.
Protective covers for electronic process sensors.
4. Spargers
Carbonation of beverages.
Addition of CO2 to neutralize acidic waste stream in paper processing.
Aeration of sewage effluent to increase biological activity.
Addition of air into fermentation processes such as beer brewing or fuel ethanol production.
Introducing hydrogen into refinery cracking operations.
Increasing the oxygen content in fish farming plants.
Adding ozone to a water treatment stream.
Introducing nitrogen into food products such as beverages and cooking oils to remove oxygen and extend shelf life.
5. Rollers and Applicators
Finish coatings for printing papers.
Solvent-based adhesive coating of tapes.
Ink jet printer plates.
Air rollers for handling sensitive films with no direct surface-to-surface contact.
6. Fluidizers
Fluidizing cones on silo outlets to aid dry process chemical flow into a reactor.
Moving dry goods, such as cereals, through process tubing.
Loosening of bulk dry chemicals after transport prior to dumping.
7. Gauge Snubbers
8. Silencers
Vehicle or train air brakes.
Gas-activated process valves in chemical plants.
Air and vacuum pump discharge mufflers.
About Us
XINXIANG ZWEN FILTER CO.,LTD produces pleated metal filter cartridge (pleated wire mesh filter cartridge, pleated sintered fiber felt filter cartridge), sintered metal filter basket, sintered metal filter cartridge (sintered fiber felt filter cartridge, sintered mesh filter cartridge, sintered powder filter cartridge), sintered metal filter disc (sintered mesh filter disc, sintered powder filter disc), sintered metal filter sheet (sintered fiber felt, sintered mesh, sintered powder filter sheet), sintered metal filter tube (sintered mesh filter tube, sintered powder filter tube).
With high-end sintering equipment, welding equipment and skilled workers, we have passed ISO 9001:2008 quality management system and SGS audit test.
Our products are used in petroleum industry, chemical industry, aerospace industry, pharmaceutical industry, food industry, beverage industry.
Our main markets are European market and North American market.
Contact Us
XINXIANG ZWEN FILTER CO.,LTD
HEAD OFFICE: NO.412 FANG, SI LOU, NO. 101 FUXING GUOJI, DONGBEI JIAO JINSUI DADAO HE XINFEI DADAO, HONGQIQU, XINXIANG, HENAN, CHINA
FACTORY ADDRESS-1: NO.728, GONGYUAN GUOJI, DONGBEI JIAO JINSUI DADAO HE XINER JIE, HONGQIQU, XINXIANG, HENAN,CHINA
FACTORY ADDRESS-2: NO.425, XINHUI ROAD, MUYEQU, XINXIANG, HENAN,CHINA
TEL: +86-373-5895995
FAX: +86-373-5895965
EMAIL: info@zwenfilter.com
WEBSITE:
www.zwenfilter.com
www.leerfilter.com
www.sinteredfiberfelt.com
www.sinteredfilterdisc.com
www.sinteredfiltertube.com
www.sinteredfiltercartridge.com
www.sinteredfilterelement.com
www.sinteredmeshfilter.com
www.sinteredpowderfilter.com
www.zwensinteredwiremesh.com
www.zwensinteredfilter.com